J.J. Johnson
J.J. Johnson
Trombonist, Composer, Arranger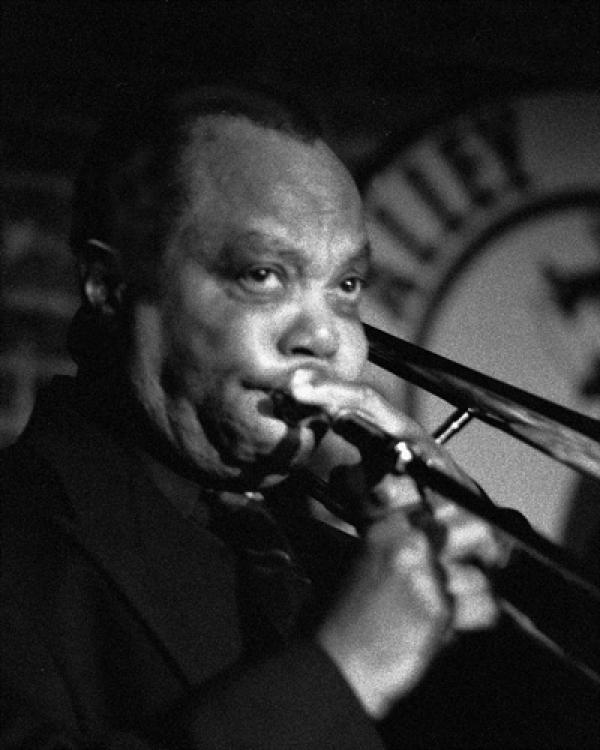 Bio
Often referred to as the "Charlie Parker of the trombone" due to his uncanny musical dexterity and fluency, James Louis "J.J." Johnson dominated his instrument for more than 40 years, and was known as a potent composer and arranger. He was a perennial jazz magazine poll winner for his peerless trombone playing.
Between ages nine and 11, he studied piano with his family's church organist, picking up the trombone at age 14. His first professional experience came with the bands of Clarence Love and Snookum Russell. It was in the Russell band that he met jazz trumpeter Fats Navarro, an early influence on the young trombonist. After leaving Russell, he spent three years with Benny Carter's band, then gigged with Count Basie in 1945-46. He worked briefly with Dizzy Gillespie and Woody Herman, then toured the Far East with Oscar Pettiford. The difficulty of making a living in the jazz field affected Johnson; from 1952-54 he held a day job as a blueprint reader. Then came one of his most significant early bands, a two-trombone group he co-led with Kai Winding — the Jay and Kai Quintet — from 1954-56; after a period of freelancing and bandleading, he re-joined Winding in 1958. The group was instrumental in demonstrating the power and possibilities of the trombone in modern jazz.
In the late 1950s, he began to gain recognition as a composer. Two of his extended works, "El Camino Real" and "Sketch for Trombone and Orchestra," were commissioned by the Monterey Jazz Festival. A commission from Dizzy Gillespie resulted in "Perceptions," a large-scale work for orchestra that was recorded for Verve Records. In addition to his work as a composer, he performed with groups led by Miles Davis, Clark Terry, and Sonny Stitt, then moved to California in 1970. There he immersed himself in lucrative television and film scoring. His scores can be heard on such television programs as Mayberry RFD, That Girl, Mod Squad, Six Million Dollar Man, and Starsky and Hutch.
In 1987, he returned to his hometown Indianapolis and began playing, touring, and recording again. His awards include an honorary doctoral degree from Indiana University and the Indiana Governor's Arts Award in